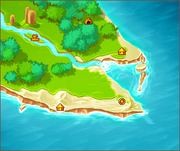 Description
The lost Twilight Cemetary is isolated within the Dinotown Kingdom. It's a very mysterious place, subject to many myths: ghosts, strange apparitions or disappearances, deformed monsters or magic creatures. Over time, the myths have become so notorious that people think that it's linked to another world....
Neighbor Locations
People / NPCs
Additional information
This place can only be accessed from the Frish Port for Dinoz with 10 HP or less, or Dinoz with a
Skully Souvenir. Making the hurt Dinoz a group leader for healthy Dinoz will not let the rest of the group join him, he will move alone.
Community content is available under
CC-BY-SA
unless otherwise noted.