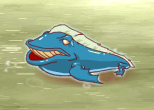 This foe is slow, but the attack of its primary element can be very dangerous for low level Dinoz. To fight it you must talk to Joveboze.

Attributes

Health Points
63-80 HP
Element
Water

Level

5
Special Skills
Unknown
Locations
Frish Port
Related Quests
Unknown
Exp
8:100, 11:80, 12:70, 14:50, 15:44, 17:36, 18:33, 21:28, 22:26, 28:20
Hint
This foe is slow, but the attack of its primary element can be very dangerous for low level Dinoz. To fight it you must talk to Joveboze.
It attacked my Dinoz ~10-12 lvl. for 37 dmg with water attack.
I've successfully used Rescue Flamelet to fight Scorpscuba. It attacked flamelet for 44 so it might be the real attack strength of Scorpscuba.
This dino is extremely tough for a quest, make sure you're dino is at full health, getting hit more then twice will more likely cause your dino to die. Mine died in the first hit because I didn't realize this.